Last week, Trish and I did an event with Sam Jacobs of Revenue Collective. We discussed our recent research on sellers' appetites, attitudes, and apprehensions about returning to in-person work.
You can access the full 45-minute recording (which I highly recommend) or . For those of you who want the Reader's Digest | tl;dr version, we shot a 10-minute Bridge Group Client Brief hitting highlights.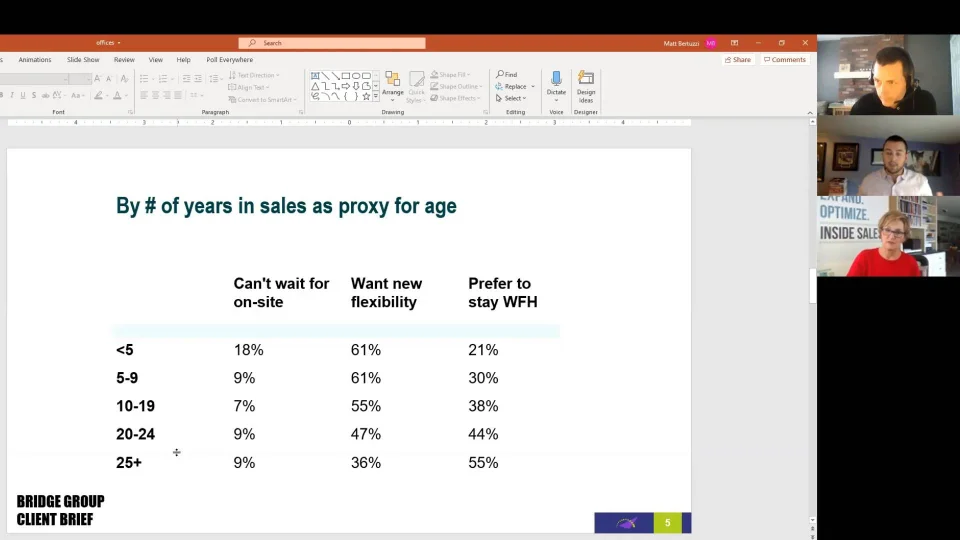 Let me call out just a few findings for you.
Sales Reps & Leaders are much more ready to return than non-selling office workers
On Twitter, Slack CEO Stewart Butterfield found 8-9% of respondents "prefer to be in office" in a future, imagined world. A similar poll on LinkedIn found just 4%.
In our data, 16% of respondents "can't wait for on-site" to resume. Digging in, we find that Managers expressed "can't wait" to an even higher degree . Double that of sellers, triple the Twitter poll, and 5X that of the LinkedIn audience.
Here are the roles most and least eager to return were:

MOST EAGER


Hybrid / Field AEs

First-line Managers

Early-career sellers

LEAST EAGER


Those with family/child-care constraints

Midy-career sellers

Later-career sellers
Getting back to normal won't be normal
The reality is that most people would prefer some flexibility in work-from-home and work-from-office. The realities of virus spread, however, make this difficult.
In a limited capacity environment, people can't choose 1-2 days a week ad hoc to return. It is more likely they will have to book office time, face physical restrictions, meet hand hygiene and face covering requirements, and/or observe incubation period between visits / travel / exposure / etc. You can look to salesforce.com Asia's reopening details as an example.

A decision tree for returning
Finally, I wanted to share a decision tree we've been working on. Our goal has been to help clients decide between now, later, and never*.
The approach we're currently recommending is to either punt the decision (till Q4 to 2021) or to launch a Pioneer Program to pressure test your reopening plans.
Obviously this is a massively complicated issue and we're, to use everyone's favorite phrase, in unprecedented times. If you are back, partially back, or not going back, please share why in the comments.