Sales Development (SDR): Metrics & Compensation Report
Benchmark data from 222 B2B companies
ADRs, BDRs, SDRs - whatever you call them, the metrics that drive the sales development function are always in demand.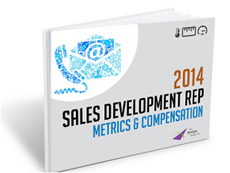 This is our fifth round of research into inside sales groups chartered with lead qualification, appointment setting, and/or outbound prospecting.
In this new research, you will find:

Rep & Management compensation
Rep ratios, ramp time & tenure
Quota, attainment & variable details
Activity & result metrics
And more
Learn how fellow B2B Executives choose metrics, structure compensation, and leverage the SDR function for revenue growth.